Google Atmosphere is an online event that provides leading CIOs and CTOs a platform to talk about how technology of the future will take shape and how to adapt to it. Google Atmosphere is also a collaboration and knowledge-sharing platform for top management executives around the world.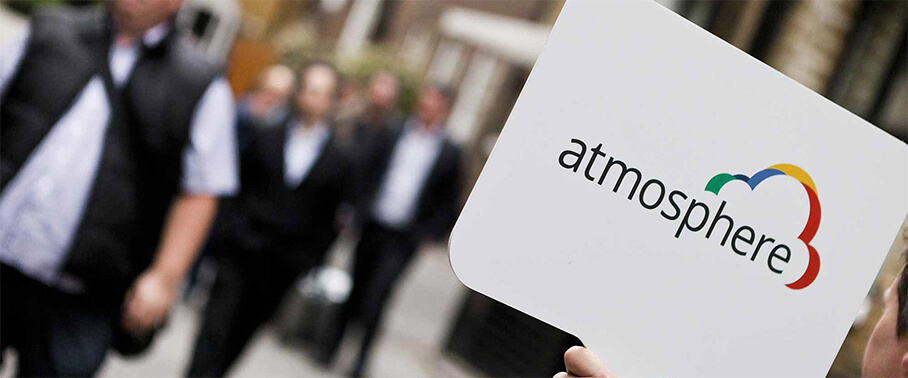 The first ever Google Atmosphere in 2008 was initially started as a conference for 250 CIOs but now it has become a global annual-event to be organized in various tech-savvy cities around the world. During the year 2014, grand conferences of Google Atmosphere have been held in London, Munich, Paris, Sydney and many other cities acting as regional tech hubs. Google invites its brightest to impart their valuable knowledge and invitations are also extended to the most innovative minds in the tech world to interact with the tech-savvy audience at the conference.
What is Google Atmosphere about?
Google Atmosphere is a two-hour event that provides insights to its audience about how to increase creativity and innovativeness, irrespective of industry. Attendees can choose one of the two sessions targeted to discuss:
How to create highly productive teams, and
How to secure and keep IT agile.
Each session offers unique insights from distinguished speakers on these topics.
Google Atmosphere tends to reverberate that everyone has the gift of creativity, innovation in some or the other way. The idea is to not wither away in the face of odds, as some of the best innovations can be attributed to those who didn't give up on their idea, irrespective of how unlikely it seemed at the time of conception, be it Alexander Graham Bell's Telephone, Thomas Edison's Light Bulb, or the Google search engine itself by Larry Page and Sergey Brin. At some point, all these ideas faced ridicule, or criticism as not being beneficial to anyone but to imagine that there was a time the world lived without either of these things, and how different it would be today without these inventions.
Why is it beneficial to spend two hours to attend Google Atmosphere?
Some Business Executives may be satisfied with the way their day to day operations take place and may not really feel like drastic changes are needed. Critical and creative thinking is how problem-solving capability increases, in case of satisfaction with the status of creativity and innovativeness of a company. Google Atmosphere is a great platform to expand one's platter of knowledge. If nothing else then it is certainly offers an opportunity to sharpen problem-solving skills aided by innovative and creative thinking.
One thing that innovators have in common is the relentless urge to disrupt the usual. At Google Atmosphere, Google in collaboration with top industry experts from around the world will share what drives creativity and innovation, what type of tools and technology help you get that winning edge and how you and your organization can find business solutions through Google for Work and Think Creatively and Innovate Boldly. An interactive live stream for industry leaders, Google Atmosphere will cover tried and true tips to help evolve your business to increase flexibility, productivity and growth.
What to expect at the next Atmosphere event?
At the upcoming Google Atmosphere event scheduled for October 2015, Rich Rao, Google for Work Director, will start the discussion underlining characteristics needed to achieve global success. He will indulge the audience in topics like winning customer affection, cost cutting increasing connectivity, and the advantage being up to date with technology. Alphabet executive and founder of Nest Tony Fadell, shares his vision of the path of future technology and business.
Other notable speakers to feature include Sarah Franklin, VP Marketing & Lauren Grau, Developer Program Manager from Salesforce, enriching the experience for thousands of customers. Woolworths' CTO Ryan Fahy will explain how Google Apps for Work has connected thousands of Woolworths' employees to enlighten them on culture and the best customer service practices. Forrester Consulting's Sean McCormick, Sr. Consultant and Ted Schadler, VP and Principal Analyst will present two big market trends and challenges faced by business leaders and provide the ROI analysis of Google Apps for Work in facing challenges.
CEO Eduardo Guilisasti and IT Manager Daniel Durán of Concha y Toro, South America's largest wine producer will describe what makes their brand a global success, while highlighting the tech they use to optimize operations. WeWork co-founder Miguel McKelvey CTO and David Fano will give an insight about their idea of an optimized working space, also WeWork went international with Google Apps for Work.
In general, Google Atmosphere provides insights on how to add creative value to problem solving. It is a free-of-cost learning avenue offered as a part of Google for Work, primarily designed to understand the process of innovation and then use the insights to guide the audience to implement creativity in crafting solutions for their businesses and their customers'.
Google Atmosphere can be a positive learning experience. It has a line-up of seasoned speakers who will make it impossible for the audience to end the event without having learnt anything new and useful.
Being a part of Google Atmosphere will give a sneak peek into valuable ideas from hundreds of business innovators that can help you discover what could be the next best transformation strategy for your organization. So, all learning enthusiasts should make it a point to make time for registering and participating in the event.