Windows Virtual Desktop
(DaaS) On Azure
With Desktop as a Service (DaaS) migrate your desktops to a secure full-featured VDI on Azure and enhance your desktop experience with Brio's managed support.
Windows Virtual Desktop is a comprehensive desktop and app virtualization service running in the cloud. It is the only virtual desktop infrastructure (VDI) that delivers simplified management, multi-session Windows 10, optimisations for Microsoft 365 Apps for enterprise and support for Remote Desktop Services (RDS) environments. Deploy and scale your Windows desktops and apps on Azure in minutes and get built-in security and compliance features.
More secure, productive virtual desktop experience on Azure for all of your employees. With Windows Virtual Desktop, pay only for Azure Virtual Machines and Azure Storage consumed by users during their use of the service
Brio is among the first Microsoft CSP Direct Partners to successfully deliver Windows Virtual Desktop (WVD) Solutions. With help of our experts and Azure's WVD solution you can save on implementation, reduce deployment time and gain control over your VDI environment securely.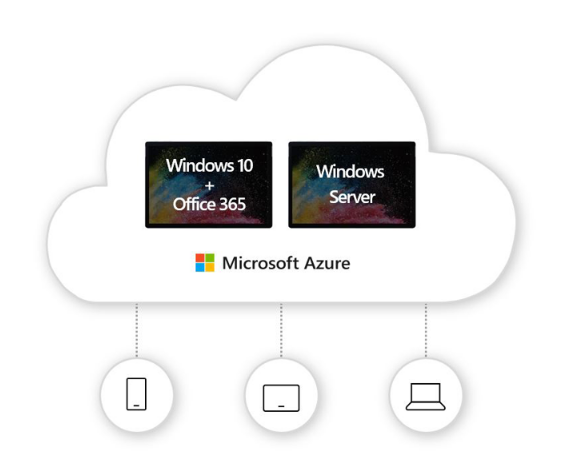 Microsoft Azure's WVD provides best-in class end user experience, high availability and scalability. Take advantage of Microsoft advanced support with low SLA via Brio Technologies and realize full benefits of WVD on Azure.
Benefits of Managed Windows Virtual Desktop
Deliver the only multi-session Windows 10 virtual desktop experience.
Enable optimisations for Microsoft 365 Apps for enterprise.
Deploy and scale in minutes without hassle.
Pay as you go' model with NO long-term commitment..
End-to-end implementation and integration with existing IT infrastructure.
Migrate Windows Server remote desktops and apps to Azure
Save cost by using your existing RDS CAL.*
Multi - Session (WVD)
Shared - 10 Users
10 Users
20 Users
30 Users
40 Users
User Type
Business User
Business User
Business User
Business User
Business User
Operating System
Windows 10 E3
Windows 10 E3
Windows 10 E3
Windows 10 E3
Windows 10 E3
Machine
4 vCPU & 16 GB RAM
4 vCPU & 16 GB RAM
8 vCPU & 32 GB RAM
8 vCPU & 32 GB RAM
16 vCPU & 64GB RAM
Authentication
Shared AD
Dedicated AD
Dedicated AD
Dedicated AD
Dedicated AD
Usage Hours
300 Hours/Month
300 Hours/Month
300 Hours/Month
300 Hours/Month
300 Hours/Month
Price/User
1360
1790
1310
1133
1162.5
Add-on (Optional)
Microsoft 365
Available
Available
Available
Available
Available
Endpoint Security
Available
Available
Available
Available
Available
Single- Session (WVD)
10 Users
20 Users
30 Users
40 Users
50 Users
100 Users
User Type
Developer/Engineer
Developer/Engineer
Developer/Engineer
Developer/Engineer
Developer/Engineer
Developer/Engineer
Operating System
Windows 10 E3
Windows 10 E3
Windows 10 E3
Windows 10 E3
Windows 10 E3
Machine
2 vCPUs & 8 GB RAM
2 vCPUs & 8 GB RAM
2 vCPUs & 8 GB RAM
2 vCPUs & 8 GB RAM
2 vCPUs & 8 GB RAM
2 vCPUs & 8 GB RAM
Authentication
Dedicated AD
Dedicated AD
Dedicated AD
Dedicated AD
Dedicated AD
Dedicated AD
Usage Hours
300 Hours/Month
300 Hours/Month
300 Hours/Month
300 Hours/Month
300 Hours/Month
300 Hours/Month
Price/User
4250
3885
3763
3700
3664
3590
Add-on (Optional)
Microsoft 365
Available
Available
Available
Available
Available
Available
Endpoint Security
Available
Available
Available
Available
Available
Available