An end-to-end Online Payroll Software That Works for India's SMEs
Apart from positive culture and ethics, employees expect good employers to pay them accurately and on time! With Perk, you can hit all the right notes without investing in costly salary software.
Here's what you get with Online Perk

Salary item rounding rules.
Automatic payroll generation based on:

Time cards
Leave cards
Loan/advance on salary
Regional taxation laws
Company policies

Compliance with state and central laws around Provident fund, ESI, PT, TDS and other deductions.
Compliance with laws in multiple regions (for multi-branch offices).
Updated laws.

Advance earning and deductions to manage future payments and deductions.
Process payroll with a few clicks.
Generate salary disbursement statements and bank advices to credit employees' salary.
Add new data or perform bulk updates using Microsoft Excel.
MIS reporting.

Flexible payroll formula builder.
Ad hoc earnings additions or deductions for a particular month.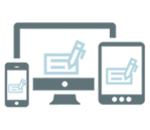 Definition of your earnings, deductions and other salary heads.
Multiple salary structure creation.
Customizable pay slips

Employees can access their pay slips on email, saving thousands in printing and paper cost as well as reducing consumption.
Online ESS also reduces paperwork in true paper sense.