Android for Work is Google's enterprise mobile device management (MDM) platform for companies to deliver a secure, productive, and rich mobile experience to their employees. Android for Work is a program for devices running on the Google Android mobile operating system that allows it to manage and secure business applications on a work-specific profile.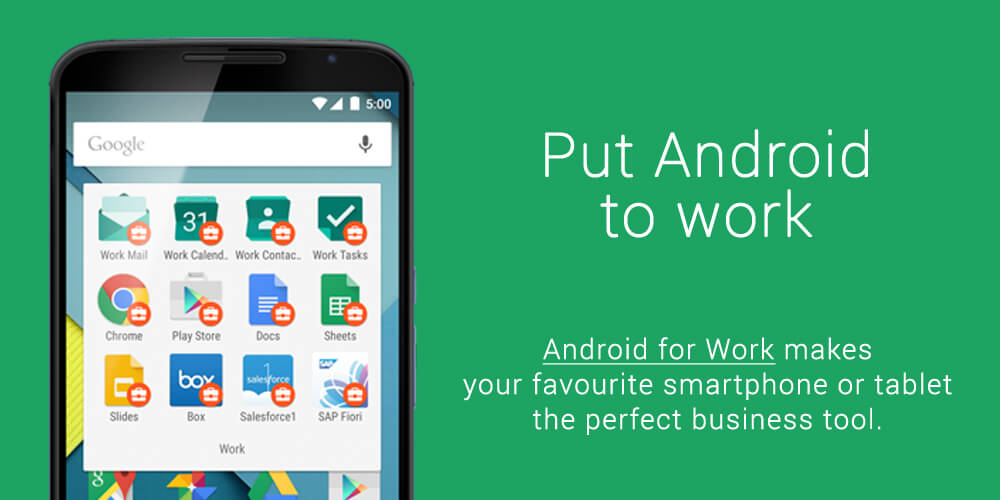 In the modern office environment, many people have resorted to using two smartphones, one for personal use and the other, a company-issued smartphone. With two phones, the IT department has full control over an employee's work data and can remotely wipe it but has no control over their personal phone. It's a viable setup, but not without a downside. A user has to carry two phones, two chargers, and have almost no free pocket space. The other alternative is called BYOD—Bring Your Own Device—in which the IT department installs company software in users' personal phones.
Android for Work is a unique solution that uses Android's multi-user framework to securely separate work and personal profiles on a single, unified interface. Through Google Apps and the Google Apps Device Policy app, it takes a personal device and adds an additional work profile that is owned by the user's employing organization.
A user can have two copies of apps on the single home screen, one personal and one for work, with the work apps denoted by a little red briefcase badge. Users can arrange the Android home screen icons anyway they desire. However, Work apps show up last in the app drawer, after personal apps.
Notifications for each account still come in and stack in the notification panel just like before. Both work and personal notifications are separate, work notifications being marked with a small briefcase badge. Overview separates work and personal Gmail allowing users to toggle between them as they want. A share dialog is added so that the users can pick which account they want the shared item to go to.
A company called "Divide" acquired by Google forms the basis of Android for Work technology. The apps capabilities were limited, so Google designed the feature to allow for a better integration with Android and the Play Store.
Google's main target segment comprises the businesses that don't need super high security as Android is still not able to lock down a device, which will be a deal breaker for high-security organizations looking to switch to Android for Work. Google Apps Device Policy is used to lock down the OS but the list of available policies is limited to password requirements, forced device encryption, and disabling the camera. It is unable to stop someone from copying text from the work profile and pasting it into their personal Gmail.
"Android for Work" applications come with the following advantages:
Data Separation and Security
By using hardware-side encryption and policies that need to be managed by administrators, devices with Android for Work ensure that business and private data stay protected from malware.
Supports an employee's personal devices as well as those provided by employers
Android for Work users can now use the same Android device for both official and personal accounts, and the employers have a choice to either provide a separate device or configure an employee's existing personal device for official use with a new work profile.
An admin can remotely monitor and control the applications and data on an Android for Work device without posing any privacy-hampering threat to employee's personal data on the device.
Users can enjoy a seamless experience as Android for Work lets them swap between personal and work-related apps with ease. Work-related apps and personal apps are listed together in the app manager or the recent apps list. To avoid any confusion on the part of users, work-related apps have badges to tell them apart from personal apps.
Application Deployment made simpler
Administrators can use Google's Playstore to find and download business apps for Android for Work devices. Google provides the basic infrastructure and framework that can be used by third-party EMM providers to develop newer and better Android for Work solutions.
Android for Work is slated to increase Android usage by enabling seamless IT management through numerous EMM providers willing to contribute. Through Android for Work, the technology industry is poised to get a unified way to secure enterprise apps, manage devices remotely, and keep work and personal data separate.